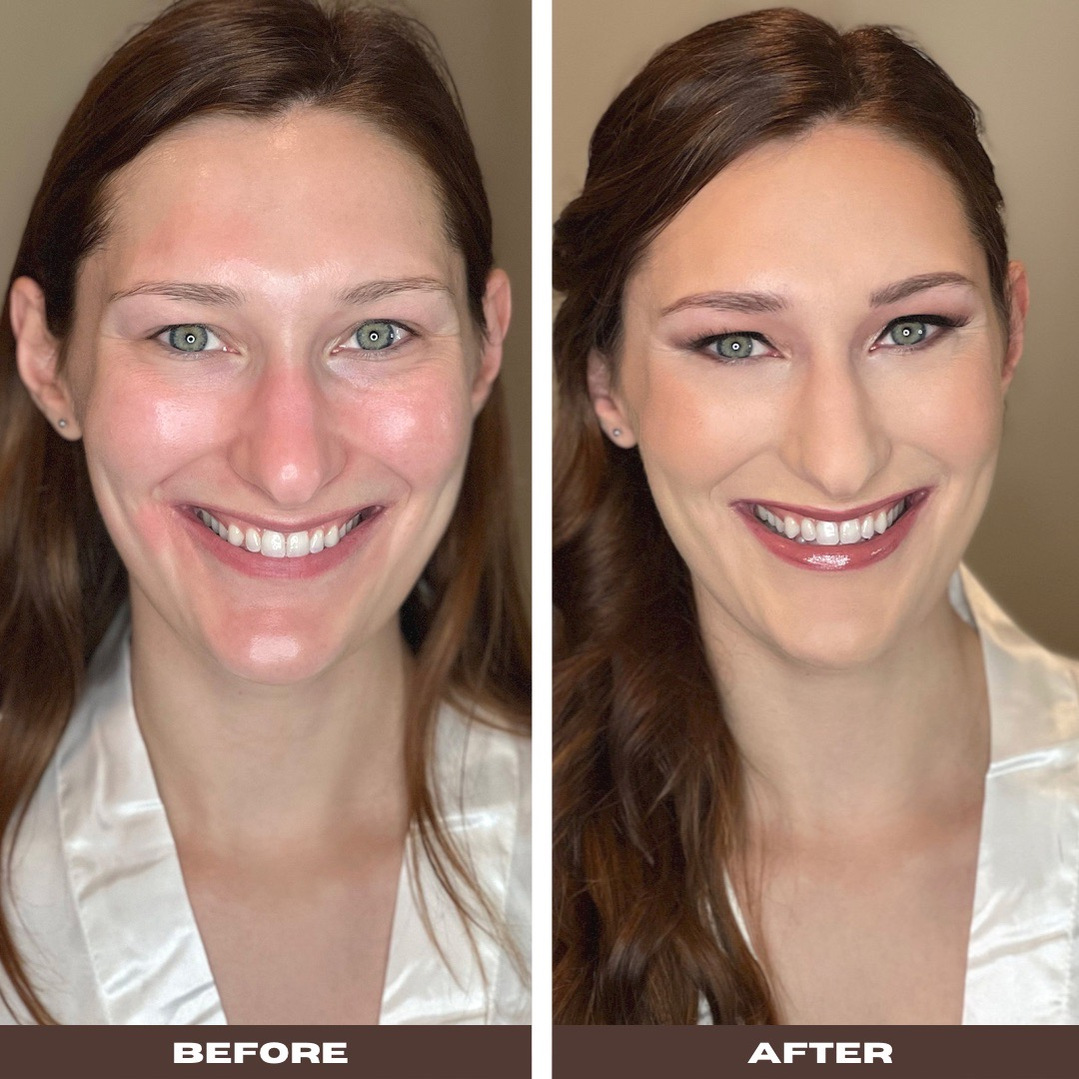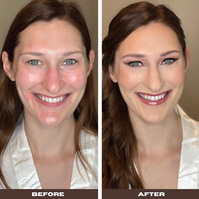 Charlie Pedersen
"I had a fantastic experience! I was looking last minute to have my makeup donefor a special event and Tiffany responded back very quickly. She kept meupdated on her arrival, and was very professional. She was also extremelypersonable and friendly which made it a very comfortable experience. I receivedso many comments on my makeup all night, and plan to continue to book with onlyher for any upcoming events that I have!"
Hannah Huddleson
" Tiffany is a dream. She arrived early with the biggestsmile on her face. Made all my bridal party feel beautiful and kept me smilingand calm while she did my makeup. She took extra time to help make sure ourhair was perfect and to take pictures. She is a master at reading the energy ina room. I adore her. Book her for your wedding!"
Paula Guerra
"Tiffany was great! Fluent communication and very attentive to my needs. I lovemy overall look! Her work was flawless and she was super fast too!"
Marianne Hudson
" I loved the way my makeup turned out! Tiffanygave me the look I was going for 100% she was kind and responded to all mymessages very promptly. I don't wear makeup often, and tend to feeluncomfortable when wearing it, but felt very beautiful and confident with themakeup job she did. I wanted to go very natural, but still have a look thatwould stand out for my wedding photos and she did just that!"
Valerie Truong
" Tiffany is wonderful at what she does. She isprompt, professional and takes your vision and makes it a reality. She tailoredthe look I wanted to my features. She has an artistic eye. She used highquality products and my look lasted all day. Her studio was clean and neat. Willdefinitely be using her in the future!"
Camille Childress
" Tiffany went over and beyond for me! I ambeyond picky when it comes to makeup and she went step by step to education andensure she got my vision. She was efficient, kind, and made me feel socomfortable right from the start. She made me look a 15/10 for my engagementphotos and I'm so glad I chose her!"
Kasey Rubin
"Tiffany was a delight to work with! Due to myown scheduling errors with head shots, I needed a MUA the next morning! Tiffanywas very professional, punctual, and made me feel beautiful! She shared tipswith me & was very open in that I was able to write down all the productsshe used so I could up my face game! She left me feeling confident. I'll bebooking her again! Thank you, Tiffany!"
Rachel Holder
" It was such an honor to work with someone astalented as Tiffany! She really has a great eye for bringing out the beauty ineveryone individually and takes your confidence to a whole new level. Not tomention she is one of the sweetest people you will ever meet and is a greatperson to work with! I've been wanting to work with her for a while now afterseeing some of the amazing work she's done. She can go from simple &classic beauty looks to creative beauty work and everything in between. She'sby far one of the best muas I've worked with thus far in my career and I can'twait until the next time we work together!"
Veronica Canchola
" Experienced,professional, and approachable! We recommend Tiffany for all your professionalmakeup needs."
Shelley Ewart
" Incredibly responsive, beautiful makeup, veryprofessional."
Vida Maranphal
" Tiffany is an awesome makeup artist andteacher. She was patient and helped explain the process thoroughly. Very bubblyand warm personality. Impressive portfolio. Will be taking more lessons withher in the future!"
Megan Woods
"Tiffany is AMAZING!!! Not only is she a fantastic makeup artist, but she is sofun to work with! She brings such a lovely and energetic vibe to every shoot.She has done simple beauty looks and glam looks on me and both turned outamazing! She is also a fantastic communicator, so you'll know exactly what toexpect upfront! "
Phyllis Goetz
"Tiffany was amazing. She listened and also taught me so much. She understood myallergies and offered advice on products and techniques. Definitely 5 stars!"
Chris Alaytsev
" Tiffany was great! She went above andbeyond to meet each of our visions and came completely prepared, was punctual,professional, and so nice. I highly recommend using her services! Thank you,Tiffany! "
Rebecca Cram
"Tiffany was positive, upbeat and made sure I was taken care of the day of my wedding as well as leading up to the special day. Tiffany is so fun to be around and she really makes the bride the priority as well as checking in to make sure I was happy with all of the results. Couldn't have picked a better person to be part of my wedding journey."
Kari Pitts
" Tiff did a beautiful job for my Aunt. My Aunt is recently disabled but she wanted to go to a special function. Tiff glammed her up so beautifully. My Aunt felt beautiful and so special. What a great gift! I would highly recommend Tiff."
Cameron Inman
"Iabsolutely love Tiffany! She did my makeup at a photoshoot and after that Iknew she had to be my wedding MUA! She did such a beautiful job I lookedflawless all night long. She also did my hair last minute for my bridalportraits and just completely saved the day! She's so easy going and FAST! Thebest MUA you'll find! "
Areeba Khan
"Tiff did an amazing job! I was so happy with all the makeup looks she did on mymom and sister! She listened to what looks they wanted and 100% delivered!"
Erin Roberts
"I booked Tiffany for our first Halloween photos. She was wonderful. I can't sayenough. Easy to work with, fun to chat with during our session and the makeupup looked exactly like we discussed. I'm booking her again! ThanksTiffany!"
Katie Oaklund
"Tiffany was great. Very responsive to all messages in advance of the party andright on time. Seven 11 year old girls had a blast and Tiffany was wonderfulwith them!"
Laura Humphries
"I was so grateful that Tiffany did my hair and makeup. We did a trial first andthe final session was perfection! Tiffany is very sweet, professional,punctual, and very talented. I highly recommend you choose her for any specialoccasion. You will not be disappointed!"
Meghan Brown
"One of the best decisions I made for my wedding was hiring Tiffany. She trulymade me feel the most beautiful I have ever felt! Due to some unfortunatecircumstances we had to move the wedding up and I can't thank her enough forbeing willing to work with me!"
Marina Soodan
" Tiffany was amazing and made me look sobeautiful for my wedding day!"
Dr Taryn
" What a seamless day! I want to personally thankTiffany for such an outstanding time- just perfect from the time of outreach bymy Assistant to the flawless work for the company keynote. I appreciateeverything and would highly recommend Tiffany to anyone in the Dallas FortWorth area! I will absolutely use her services again when in the area! Thankyou, Tiffany!
Alexa
" She was so warming and personable, I felt verycomfortable with the whole experience. She was great at shade matching me andaccommodating to my skin type. Loved the eye makeup techniques and she mixed aspecial highlighter just for me. Great person and very professional!"
Rose Ramirez
" First time ever doing my makeupprofessionally done and I LOVED IT! Thank you so much Tiffany."
Amanda
"Great MUA, veryprofessional and creative. I wanted a classic pinup look, and she delivered!Love my photos, the makeup added just the right touch. I will definitely beusing her again on future projects."
Toni Vaughn
" Tiffany did a greatjob, very professional and friendly. Would highly recommend her."